Lavazza Super Crema Espresso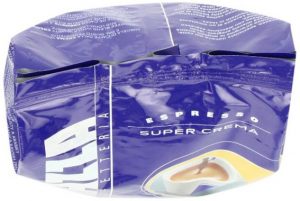 Lavazza is an Italian coffee company with a long established history of fine coffees. When you buy coffee from Lavazza, you're getting one that's made from the best coffee beans.
The blends are high quality and please coffee lovers all over the world. The Lavazza Super Crema Espresso is one of their widely popular coffees. It's made using a blend of beans from areas known for their ability to grow coffee beans.
The Super Crema Espresso uses the blend of different Brazilian beans along with ones from Indonesia and Central America. As a result of the blend between beans, you get a coffee that's bursting with flavor.
When you first try the coffee, you'll notice right away how smooth it is. You'll be able to taste the blend between the sweet and mild coffee beans that are used in the beverage.
The taste is one that lingers with each sip that you take. The coffee's unique flavor is just one of the many reasons this coffee is one of the top selling brands. It's packaged in a dark, opaque bag in order to protect the beans from the light so that they arrive to you with that "just picked and roasted" freshness.
The coffee is packaged in a bag that's just over two pounds in weight. While it says that the it's espresso, you can also use it to make regular coffee in a drip maker.
The aroma of the coffee more than lives up to the promise of the great taste that it delivers. What you'll first notice when you open the bag is that the scent has the aroma of nuts and honey.
When you make it into an espresso, the taste will be mild, but full of body. When you get this package of coffee, the amount of servings that you'll get out of the bag will depend on how you prefer your brew to taste.
Some coffee lovers use more of the beans once they're ground, while others use less. But if you use an average amount of the grind with a regular drip maker, you end up with between 110-125 cups depending on the amount of coffee and the serving size of the cup.
Single serving espresso shots usually gives you around 100 shots. Regardless of how you prepare the coffee, you end up with a milder flavor, since this is a medium roast and the beans are not oily.
So you don't end up with that bitter taste like you can get with darker roasts and beans with the oil sheen on them. This is a gourmet specialty coffee and once you try it, you'll never be able to go back to regular coffee again.