Nescafe Taster's Choice House Blend Instant Coffee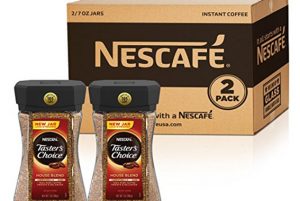 Instant coffee can be a great way to start off your morning, have an afternoon pick-me-up or to enjoy all day long. Many coffee lovers like to add things to their instant coffee such as sugar or flavored creamers while others don't.
But both sides agree on one thing: to get a great tasting cup of instant coffee, you have to start with a brand that you can trust. Nescafe Taster's Choice House Blend Instant Coffee is the go to brand for many coffee consumers.
Nescafe's Taster's Choice is one of the bestselling coffees that you can buy because they don't skimp on quality when making the product. The beans used in the making of the coffee are carefully selected from growing regions that are known for their reliable, quality beans.
Once the beans are harvested and brought in for production, the steps taken to roast the beans are monitored. Using careful roasting methods, you get the perfect roasted bean, which translates into the best possible taste that you can have.
After the coffee is carefully roasted, it's then brewed using the parameters that guarantee great tasting coffee, which are the pressure and temperature. After the brewing is done, the coffee is then flash frozen.
When a coffee is flash frozen, it means it's quickly frozen so that all the taste, aroma and health benefits such as the antioxidants and minerals are locked in. Sometimes, with instant coffees, you can get a jar that's not consistent with the same previous taste, but you won't have that problem with Nescafe Taster's Choice.
The product is consistent from the first jar on. One of the reasons for this is because the same beans are used in the making of the brand. Another is because of how easily the coffee can dissolve.
You won't end up with a weak cup followed by a too strong cup if you follow the directions. This particular blend is slightly roasted between a light and a medium hue. This locks in the smoothness and flavor without over roasting the bean.
You won't get a bitter tasting coffee with this choice. The second you open the jar, you'll be able to inhale that rich coffee aroma. The product comes in a glass jar, which keeps the coffee fresh for the duration of its shelf life.
When you buy this one, you get two 7 ounce jars, so you should have enough coffee for about two months, based on a 6 ounce cup use. If you use larger mugs, that will diminish the number of cups you get from a jar. The instructions for making the coffee are simple. All you have to do is put in the right amount of hot water and mix well.