French Presses Review: Le Creuset
Good looks and a famous brand add up to great coffee and a pretty French Press.
Le Creuset Stoneware 27oz. French Press, Cerise (Cherry Red)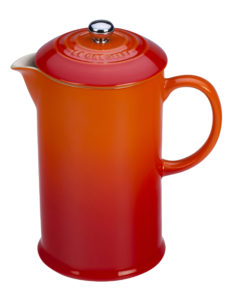 Le Creuset has made a name for itself over decades of producing high-quality kitchenware for cooking, baking and serving. This reputation for quality stems particularly from Le Creuset's long lasting, brightly colored, enameled cast-iron and ceramic pots and pans. Le Creuset product lines are extensive, providing brand loyalists the opportunity to outfit entire kitchens with matching Le Creuset wares, down to mugs, trivets, food thermometers and over a dozen different Le Creuset-branded wine-openers. Le Creuset's Stoneware French Press fits right into this line-up.
But has the brand jumped the shark?
Deciding whether or not this French press truly earns its place in a kitchen equipped with the company's skillets or Dutch ovens depends, to some extent, on what one's goals are in owning such a piece. If beauty is the most important thing, either independently or to reinforce a look, then there may be no substitute for a genuine Le Creuset French press. Yet if a dedicated home chef invests in quality Le Creuset cookware less for the look and more for the pleasure of using well-made tools, then this French press may not live up to expectation.
While the brewer is beautiful and hefty, the filter assembly on the inside of the press — a key component in the performance of the brewer — is of no greater quality than offered by substantially cheaper products. The metals are thin and the design is standard; the mesh of its filter is no finer than average and allows a typical amount of silt to pass through it and remain in the cup. Though it's not remarkably worse than many of its competitors, it's also not better, betraying the stature of the brand.
What takes Le Creuset's press down another quality notch is the lid design. Most French presses have a sort of sleeve extending from the bottom of the lid that nests snugly inside the top of the carafe, helping to hold the lid reliably in­ place, so that pouring the coffee can be a one-handed operation. Le Creuset has no such sleeve or nesting device. Its ceramic lid simply rests on top of the carafe with nothing to hold it steady apart from the rod that connects to the filter.
This certainly helps creates a simpler, more elegant look, but at a pouring angle, with the filter resting on the layer of grounds at the bottom of the carafe, the lid wobbles loosely and may even tip out of the carafe unless a user holds it in place with a free hand. A two-handed pour is not ideal when leaning over a table to serve guests.
All of this would be more forgivable if the unique stoneware carafe exhibited better-than-average heat retention. Alas, it does not. In fact, it was the poorest performer of the five French-press brewers in our heat-retention tests. The contents of the carafe dropped well below the Specialty Coffee Association (SCA) recommended brewing temperature range within 30 seconds of receiving 600 grams of water at 205 degrees Fahrenheit, then dropped another 14 or 15 degrees over the following five minutes.
Our standard test included a one-minute preheat with freshly boiled water, and, to be charitable to the stoneware, we also tested it with a three-minute preheat to see if perhaps the stoneware simply needed longer to soak up the heat. The results were virtually the same, however, thus confirming that, as the stoneware does not contribute to improved brewing performance, its employment here is purely for aesthetic and branding reasons.
For those who prefer darker roasts or who are switching to a French press directly from a low-performance automatic drip coffee machine, a low brewing temperature may not produce noticeably disappointing results. However, sub-optimum brew temperatures definitely will not bring out the best in dense-bean, high-grown, freshly light- or medium-roasted coffees. And some lower-priced French presses offer better insulation and heat retention, as well as a better-performing filter and a less wobbly lid.
The Bottom Line:
It livens up a countertop with its contour and its color, and it certainly looks serious alongside saucepans and casseroles whose excellent performance depends on few moving parts. Yet coffee-lovers expecting Le Creuset's Stoneware French Press to brew coffee as effectively as its signature pans sauté meats and vegetables may be disappointed.
To read more please visit http://www.coffeereview.com.
Le Creuset Stoneware 27oz. French Press, Cerise (Cherry Red)