French Presses Review: Bodum Chambord 
The classic French Press design still impresses
Bodum Chambord 4 Cup Shatterproof French Press Coffemaker, 0.5 l, 17-Ounce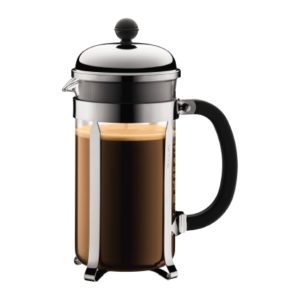 The Bodum Chambord is the predecessor of all French presses — the quintessential design patented over half a century ago that, to this day, not only gets the job done, but also does so with an admirable economy of grace and style.
The Chambord is enjoyable not only for its visually impressive juxtaposition of transparent glass and gleaming chromed steel, but also for its combination of performance and affordability. In nearly all respects, it represents a happy medium: Its sturdy glass carafe, while not as durable, insulated or expensive as dual-walled stainless steel, retains heat reasonably well and provides a lovely view of the brewing process. The components of its filter assembly are manufactured solidly enough to allow easy disassembly and reassembly while cleaning.
Its mesh filter is not the finest on the market, and its coiled metal gasket is an outdated design compared to the tighter-fitting silicon or rubber gaskets in more costly press pots. Nevertheless, the silt the Chambord filter lets pass into the cup is no more pervasive than average, and can be mitigated, to some extent, with careful technique and a quality grinder.
But now to heat retention. In our tests, when 600 grams of water at 205 degrees Fahrenheit were poured into the carafe following a one-minute preheat with freshly boiled water, the temperature dropped to 197 degrees within 30 seconds, which is comparable to the initial drop of an insulated steel carafe and keeps the contents within the SCA-recommended brewing range of 195-205 degrees. However, the contents then tended to lose another 17 degrees over the following five minutes of brew-time, which is a rather steep decline. Therein resides the inherent tradeoff with glass. Glass is beautiful and inexpensive, but it's simply not as effective as double-walled steel when it comes to maintaining a hot, steady brewing temperature, a critical concern when seeking excellence in French-press brewing.
On the other hand, an argument could be made that, because the French press method is classic, and because glass is the classic material for the carafe, then a traditional cup prepared by this method ought to be brewed with a steeply declining temperature profile. Staunch traditionalists may therefore prefer the Chambord cup as it is, while contemporary perfectionists can always choose to spend more on a brewer with a better-insulated carafe to meet today's more exacting standards for brewing consistency and control.
The Bottom Line:
The Bodum Chambord's straightforward elegance has withstood the test of time. It is a café-quality brewer capable of producing a café-quality cup, although an aficionado may find its glass carafe less effective at retaining heat and less sturdy than metal designs. Nevertheless, for the budget-minded yet discerning manual-brewing devotee, the Chambord is a golden oldie that still deserves our respect.
To read more please visit http://www.coffeereview.com.