Hamilton Beach Single Serve Coffee Brewer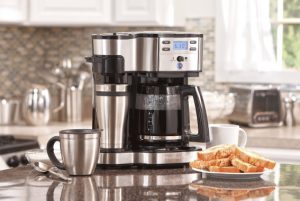 Drinking coffee is a great way to start your morning or have a relaxing moment to yourself during the day. It can be hard to do that if you have to wait for an entire pot of coffee to brew first.
But you also don't want to end up with just a single serve brewer if you also enjoy having a full pot when you want one. You certainly don't want to have to buy two separate machines.
Thankfully, you don't have to do that. With the Hamilton Beach Single Serve Coffee Brewer, there's a way that you can have the best of both worlds. You can have a full pot of coffee when that's your goal or a single cup when that's all you want.
This coffee maker is extremely affordable for all the features that it offers coffee lovers. It's made of stainless steel and looks good in any kitchen. It can hold up to 12 cups of coffee for each pot that you make.
You can use the single serving side to make either a regular cup of coffee or a travel mug cup for when you're on the go. Surprisingly, the coffee maker can do all that it does in a neat, space saving design.
When you want to make just one cup of coffee, you just put the grounds into the filter within the basket and start the brew. This side does have a brew basket that contains a mesh filter, but you also have the option of using one of the many kinds of coffee pods that are available if you'd prefer to do that.
This way you can eliminate the measuring. All you have to do is pop in the pod and start the brewing. The single serving side has an adjustable level cup rest so that it's compatible with different cup sizes.
It also has an auto shut off feature for safety and convenience. The burner will automatically shut off two hours after it's first turned on. The coffee maker has a regular single serve reservoir for the one cup side.
The reservoir for the full pot coffee side is extra large so it easily holds the water without slopping over. There are measurement guides on the side of the reservoir.
This coffee maker gives users the option of choosing the strength of the coffee that they want. You can choose between bold or regular. There is also a programming feature on the control panel.
You can set this to have your coffee begin brewing at a later time, up to 24 hours in advance. There is an automatic pause feature so that if you're making a pot of coffee and decide you don't want to wait for it to finish brewing, then you can pause and get a cup.