Mr. Coffee 4-Cup Programmable Coffee Maker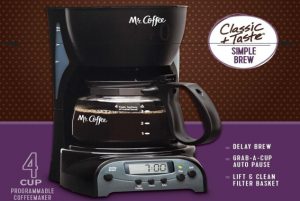 When you're on a quest for a great coffee maker, it can be easy to get discouraged by all the overpriced machines on the market. Not only that, but many of them are so loaded with an overabundance of features it seems like they do everything except brew the best possible cup of coffee.
What you want is a coffee maker that does the one thing it's supposed to do – brew a cup of coffee when you want it and make sure that coffee tastes delicious. If that's what you want, then you need to get the Mr. Coffee 4-Cup Programmable Coffee maker.
This budget pleasing choice can be a treat for your palate thanks to the efficient way it makes coffee not just a ritual, but an experience. You want your coffee when you want it instead of having to go through tons of different buttons.
This machine can do that for you. All you have to do is put the coffee in the filter, add the water and turn on the machine. Within minutes, you'll be enjoying your steaming hot refreshing coffee.
The filter basket lifts out so you can get to it. That makes it convenient whether you're adding in a filter to make a new pot of coffee or cleaning out the basket. It rinses off super easy in between pots of coffee if you're making more than one pot during the day.
The noticeable indicator light will show you whether the machine is in the off or on mode. This model has a dual water window. This lets you easily be able to see how much water you're pouring into the reservoir.
This feature works to prevent over or under filling so you get the right amount every time you use it. Because it's a four cup machine, if you use a 5 ounce coffee mug, that means you'll get right around 20 ounces of coffee.
So if you want to fill up one of those 16 ounce travel mugs to take your coffee on the go, this machine has you covered. When you're in a hurry for that cup of coffee, you don't have to wait until the brewing cycle is completely done before you get a cup.
This machine has the auto pause feature. This lets you grab a cup without a spill. Another feature is the delay brew timer. You can set the machine to have the coffee ready for you whenever you want it. One of the safety features with the machine is that it has an auto shutoff. Even if you don't remember to turn it off, the machine will do it for you.