Krups Electric Spice and Coffee Grinder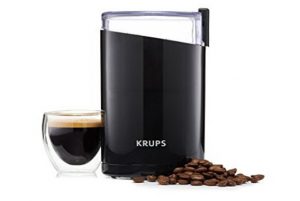 Enjoying a delicious cup of coffee anytime during the day can be a real pleasure for any coffee lover. But you can't get that rich coffee shop experience unless you have a grinder.
To get the most from drinking coffee, the beans need to be ground right before you use them. That's because the longer that a ground goes unused, the more that enticing aroma will begin to dissipate.
Plus, by grinding beans at home, you can be sure that you're getting a pure blend of beans without any additives. To be able to grind beans at home so that you don't miss out on the ultimate cup of coffee, you need the KRUPS F203 Electric Spice and Coffee Grinder.
Using it, you can get professionally ground beans right at home. By grinding your coffee beans yourself, you get to enjoy every bit of the aroma as well as that richer taste that comes from just ground beans.
You can use the Krups grinder for coffee beans or other uses like for grinding up spices or nuts. The grinder is a compact unit that won't take up much space at all on your kitchen counter.
It's modern and comes in a polished black color. The device is loaded with safety features – including a lid activated safety switch. If you're in a rush one morning and you don't get the lid in place so that it's completely closed, the blades in the grinder won't move.
These are stainless steel blades so they're long lasting and extremely sharp. The blades can create a batch of evenly ground beans quickly and efficiently. The machine gives you the choice in determining how you want to grind the beans.
You can create a coarse or fine grind. The grinder can be used to make an espresso grind, too. The machine has a 200 watt motor so it can handle any type of coffee bean and it only takes seconds to produce a yield.
It's an easy to use device. All you have to do is put in whichever beans you want to use, make sure the lid is correctly closed and push the button. If the lid is on correct, the grinding will immediately begin.
There's plenty of room in the device for your coffee beans. It can hold up to 3 ounces as it grinds. This amount usually produces about a dozen cups of coffee – depending on the size of your coffee or travel mug.
Cleaning the machine after use is easy. You can grind up rice or use a fine brush to get all the debris and oils out of the machine. Never use water, because the machine needs to be kept dry for use with coffee beans.