French Presses Review: KitchenAid Precision Press
A premium French Press with built-in tools for precision brewing.
KitchenAid KCM0512SS Precision Press Coffee Maker, Stainless Steel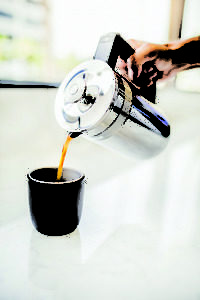 With its built-in scale and timer, the KitchenAid Precision Press takes a major stride forward in French-press brewing by encouraging weight-based precision and a close monitoring of brew time, making a better cup easier to achieve and, above all, easier to repeat once you've struck upon a recipe that best suits your particular taste and coffee.
The Precision Press not only provides functional built-in extras, but also aims at improving the basic mechanics of the format. The lid, rod, and filter assembly, for example — key features not just in the brewing process but also during cleanup, when lackluster construction can make the experience more of chore than it needs to be — are all of exceptional quality and perform very well. Compared to similar components of competing French presses, the KitchenAid parts are a pleasure to handle for their solid materials and accurate construction. Each component fits securely in its place and disassembles swiftly, including the rubber gasket, which comes off and on with ease, yet still provides a tight seal around the edges of the filter, keeping larger grind particles below, where they belong.
The insulated carafe retains heat very well, certainly well enough to maintain an optimum brewing temperature through the most important phases of brewing. In our tests, we pre-heated the carafe by filling it to the maximum fill line with water fresh off the boil and let it stand for one minute, then immediately refilled it with 600 grams of water at 205 degrees Fahrenheit. Within 30 seconds the brew-temperature refill of water dropped to about 197 degrees. But by the end of five minutes, it tended to drop only another 5 degrees, which indicates an admirable level of insulation — the second-best heat-retention performance among the French presses we've tested.
The electronics are a bit less impressive, though they do get the job done, and it's a job no other French press can do on its own. The timer counts upwards in seconds and minutes, and the scale measures weight by the gram and includes a tare feature. Displaying weight down to the tenth of a gram would be better, and better still would be a timer capable of counting down and sounding an alarm when the optimum brew-time has been reached.
Stopping the brew at the right moment by pressing down the plunger is essential in French-press brewing. It's all too easy to get distracted with breakfast or almost anything else over the course of four long minutes. Standalone timers typically have a countdown feature, which is useful precisely for a purpose such as this.
The three buttons at the top of the handle, which control power on/off, timer start/stop/clear, and taring the scale to zero, are also somewhat sensitive and positioned close together. It requires care to avoid accidentally turning something on while handling the press, particularly during cleaning. This is about as minor as nuisances come, though it can cause undue battery drain.
Those issues aside, the all-in-one nature of the Precision Press remains a simple and effective means of introducing precision-brewing concepts to anyone who wants to up their hand-brewing game without an additional surge in countertop clutter. Furthermore, the handling of the electronics in regard to design is impressive: There is no visible suggestion of a scale either on the inside or outside of the carafe (it's built into the base).
Yet, all this tidiness comes at a rather high price. Shoppers could easily find another insulated steel press pot complete with a rubber filter gasket, then buy a decent (if not higher-precision) scale and a timer separately, and still come away with enough leftover cash for a couple of bags of fresh, locally roasted beans. Furthermore, users predisposed to this level of precision will probably already have a scale and timer on hand. But as an icebreaker for the clutter-averse newcomer to coffee geekery who's more inclined to make the most of onboard features than to fiddle with multiple different devices in concert, the Precision Press is an excellent way to go.
The Bottom Line: The KitchenAid Precision Press is a bit pricy, but its build quality, performance and clever feature set may justify its cost. It's an excellent choice, particularly if you can find it on sale.
To read more please visit http://www.coffeereview.com.