Death Wish Ground Coffee Review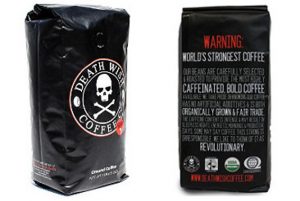 If you're a coffee lover, then you know that not every single ground coffee is the same – even if you get the exact same roast from several brands. That's because there are factors that can make a difference in the coffee quality and taste.
Some of these factors are the region where the coffee is grown, the processing method used – whether it's a wet or dry method – the quality of the beans and the caffeine content.
If you're looking for quality taste and a solid caffeine content, then Death Wish Ground Coffee, The World's Strongest Coffee, is exactly what you're looking for. The reason that it's billed as the world's strongest coffee is because that's exactly what it is – and the company stands behind that promise with a money back guarantee.
The scientific reason that it has such strength is because the coffee is made using beans that contain more caffeine content than the beans used by other specialty coffees.
This is a coffee that's been roasted to dark roast perfection. It comes already ground, so there's nothing more for you to do except put it in your coffee maker and wait to enjoy that first delicious cup.
Not only is this a Fair trade coffee, but it's organic as well – which means it's good for the economy and good for you. The beans for the coffee are chosen for their ripeness and great taste and you're guaranteed to practically feel the caffeine jump start your body.
This is not a weak coffee in any sense – so if you don't like a powerful coffee, you might want to go with something weaker. The reason that Death Wish coffee can boast of the strength of the brew is because the coffee contains much more caffeine than any other coffee.
When you make the coffee and take a sip, you'll immediately notice the bold taste. If you're half asleep when you take that first sip, by the time you swallow and it hits your stomach, you'll be wide awake.
What makes this coffee so popular is that – despite the strength of it – drinkers will still get a smooth tasting brew. You also don't get that sharp bitterness like you can get with some dark roasted strong coffees.
The coffee is roasted a small batch at a time to ensure that the grounds that you get are top quality and as fresh as coffee can get. This is a gourmet coffee with a flavor that you won't soon forget.
Once you drink it, you'll be amazed at how alert you feel and how much energy you have. The coffee comes in a dark bag to protect it from light and humidity. You can purchase these in one pound bags that have a cool skull and crossbones logo.